Welcome!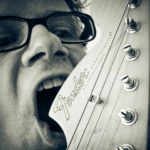 My name is Marco Raaphorst, founder of Melodiefabriek. I'm a musician, composer, sound designer and documentary maker with a widely ranged portfolio.
My music compositions can be heard in all sorts of productions including radio, television and film productions. I'm also a performing artist & songwriter.
Many musicians from all over the world are using my patches and loops which are included in the popular software program Reason of the Swedish company Propellerhead. I also do sound design for film, documentaries and apps.
And last but not least: I am a maker of radio-documentaries.
Melodiefabriek is located in The Hague, the Netherlands. My personal blog, in Dutch, can be found at marcoraaphorst.nl →
Subscribe to Melodiefabriek
Follow my blog