MPC 8 Swing for Reason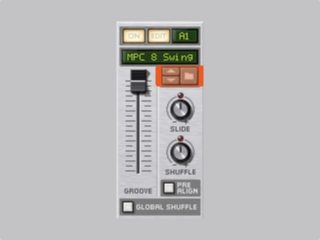 MPC 8 Swing is an essential patch that should have been included in Propellerhead Reason but which was not. So I created it.
You can use the Groove Patch in Reason's Groove Mixer. It will make straight eighth notes (8 notes per bar) swing. You can control the amount of swing very precisely in a super easy way. The included manual explains it all.
DOWNLOAD NOW (for FREE!)
Boutique Amp ReFill manual
Boutique Amp ReFill manual (v2.5) (499.0 KiB, 2,466 hits)
read more…
New patch: Binaural Panner [Reason Combinator]
Binaural Panner (v3) (2.2 KiB, 1,774 hits)
read more…
Selig ART: Tape Combinator

Selig ART: Tape Combinator (unknown, 1,157 hits)
read more…
Rockmen ReFill manual
Rockmen ReFill manual (v1.1) (254.5 KiB, 3,628 hits)
read more…
Input Drive
Input Drive (v1) (127.2 KiB, 1,122 hits)
read more…
CV Delay
CV Delay (144.1 KiB, 1,070 hits)
read more…
Amp Ambience ReFill
Amp Ambience ReFill (104.3 KiB, 1,287 hits)
read more…
Thor as Vibrato
Thor Vibrato (1.9 KiB, 1,116 hits)
read more…
Raapie Road Tape Machine
Raapie Road Tape Machine (215.2 KiB, 1,689 hits)
read more…